What's in and what's out? Kitchen trends to look out for in 2021!
Since we all had to stay home in 2020, more people were spending time cooking at home and in their kitchens, making remodels more desirable. Get ready to see some bold styles in 2021 like strongly veined marble countertops and the comeback of all white kitchens with some pops of color.
Photo Credit: Watermark Designs
Look out granite, marble is stepping into the limelight! Bold veining is making a return and makes a space feel high-end, this look isn't for everyone, if you're looking for a more understated appearance, white marble is a great alternative. You an also use the veined marble for the island and not the entire kitchen, which would be a beautiful focal point.
Another trend we will see in 2021 is more cabinets and less open shelving. During the lock down we were doing a lot of online shopping and ordering numerous kitchen appliances and utensils, but running out of storage space. While the open shelves are nice to look at, they do not store nearly as much as cabinets do. Clean counter space is very appealing to the eye, so having somewhere to store appliances that aren't regularly used is a big plus.
All white kitchens are also coming back this year, however, pops of color are on the rise as well. This can be achieved with wallpaper or an accent wall, or even a statement color island. Wallpaper can be gutsy, but there are a lot of peel and stick options to choose from to make the transition a little easier.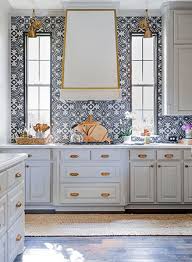 Finally, the double island. This feature has been around for a little bit, but will still be prominent in 2021 as well. With children e-learning, and a lot of us still working from home,  it is nice to have the availability of extra space that isn't the dining room table. You can add some chairs or barstools and make it an area where the kids can go from schoolwork to dinner.
Renovating spaces can be tricky and fuel some anxiety, let us help you make it easier by assisting in updates to your home before listing it for sale, all paid for by Compass Concierge! You benefit from the increased sales price with no money out of your pocket. Learn more about Compass Concierge and how it can add value to your home when you are thinking of selling.