From Vegas: 13 Innovative Features Buyers Will Want
We're living vicariously through Inman contributor Lew Sichelman's account of the International Builders Show in Las Vegas.  Not unlike the consumer products-focused International Home and Housewares show held at McCormack Place in early March, the Builders Show offers halls on halls on halls of new home renovation and design solutions.   Here, we're reprinting Sichelman's report from the field in full so you can live vicariously too.
From the list, the black matte faucets are a favorite. Adele and I toured the Kohler showroom at the Merchandise Mart which had many black, gold and matte finishes to oogle over. And as someone who purchased oven cleaner products just this week, a steam-cleaning oven would be a dream.  
Drop us a note in the comments or on Facebook to tell us what innovations you like or don't, and what area of the home you think deserves some innovation. And of course, if you would like introductions to general contractors or interior designers for your own home renovation projects, Two Door Group has you covered there too!

~Jen
This article appeared in Inman on March 26, 2019, author Lew Sichelman
Not another smart-home trend: 13 innovative features buyers will want
From smart dimmers and outdoor refrigerators to wall-mounted HVACs and dishwashing sinks, the International Builders Show had it all
You could probably wash your hands three times each day in a different sink for the next year and you wouldn't have used all the sinks that were on display last month at the humongous International Builders Show in Las Vegas.
Doubtful you would be able to use all the toilets, either. Or the ranges, refrigerators, faucets and the dozens of other building products on display at the annual extravaganza. Together, they covered more than 1 million square feet of exhibit space. More than 1,500 product makers took part.
When the final count was in, some 67,000 home builders, remodelers and allied professionals attended the annual event, which was sponsored by the National Association of Home Builders and the National Kitchen and Bath Association.
Your intrepid reporter also was there. And here, culled from the acres upon acres upon acres of displays, some two and three stories tall, are some of the items that caught my eye. They all might not catch on, but those that do should be available in new homes this fall, if not sooner. Of course, current homeowners don't have to wait — if they want to do some remodeling, many of the latest and greatest are available right now:
1. Self-cleaning toilets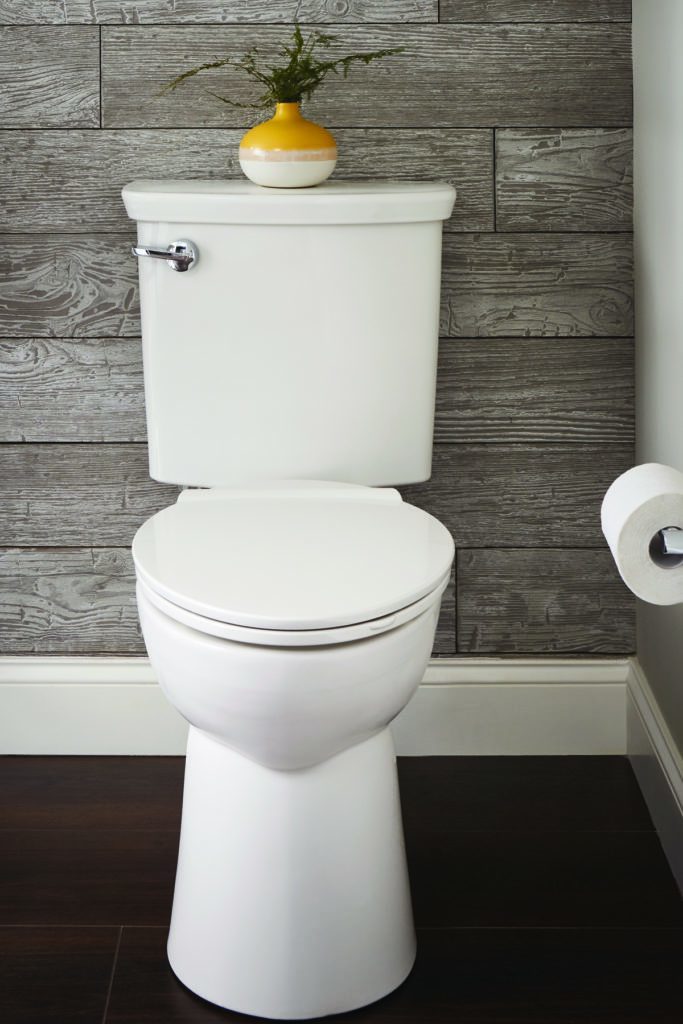 Photo: Inman
Today's affluent clientele expect you to have expert knowledge of the latest luxury industry data and trends READ MORE
American Standard displayed its new, awarding winning self-cleaning toilet. The high performance unit uses 20 percent less water than low-flow, 1.6-gallon per flush toilets.
The cleaner is hidden in an easy-to-access compartment in the seat and is released with each flush to freshen and cleanse the bowl. Also prevents staining and hard water build-up.
2. The space below decks
Trends come and trends go, especially in building products. Decks are one trend that has lasted, but what about the space below. It's often unusable, especially in inclement weather. Not with RainEscape from Trex, makers of high performance wood alternatives and railings.
The product is installed on any deck to divert moisture and crate a dry space beneath, a space suitable for furnishings, entertainment components, even lighting and ceiling fans.
3. Curved sky lights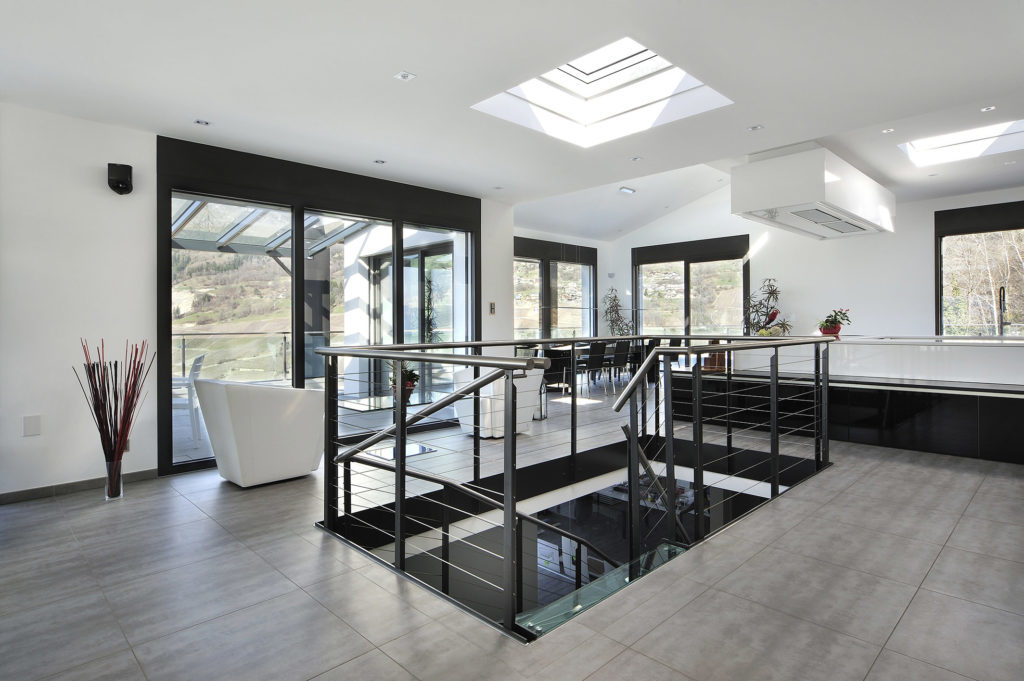 Photo: Einfamilienhaus Praz Chandolin/Savièse, JLP Architecture Chandolin/Savièse, Fertigstellung 2012
VELUX, a well-known maker of skylights, exhibited a curved glass unit that's perfect for home extensions or bump outs that have flat or low pitch roofs. Added rooms and other spaces that extend beyond a home's original walls often end up blocking natural light from interior rooms. But the new curved skylight corrects that problem, the company says.
4. Smarter thermostat
Photo: Inman
Honeywell's latest smart thermostats extend their reach beyond the hallway and into your rooms, when and where they're needed. They feature wireless sensors that measure temperature and humidity and help balance hot and cold spots in a home, intelligently balancing temperature and humidity in sleeping wings, for one example, or kitchens, for another.
The units know which rooms are occupied and can automatically adjust that room to the desired setting. Home owners can set a preferred temperature in any room at any time, and prioritize multiple rooms at different times of day.
5. Water-Based Self-Cleaning Oven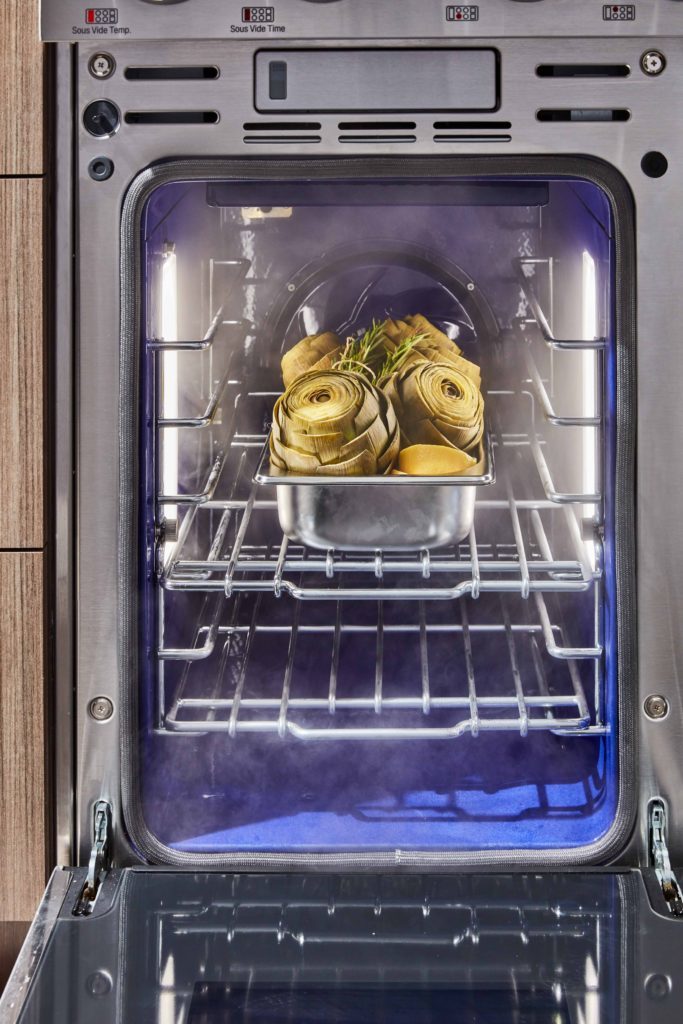 Photo: Inman
LG has an easy-clean-oven with a water-based cleaning system that uses low heat and steam to do the job automatically. The innards are covered with a special baked-on enamel that allows just water to remove burnt and crusted droppings and splatterings.
The unit eliminates the need for toxic oven cleaners, and has a measurable impact on pollution and energy use. Whereas the typical oven has a three-hour self-cleaning cycle, the LG model needs only 20 minutes – and a tenth of the power.
6. Dishwashing sink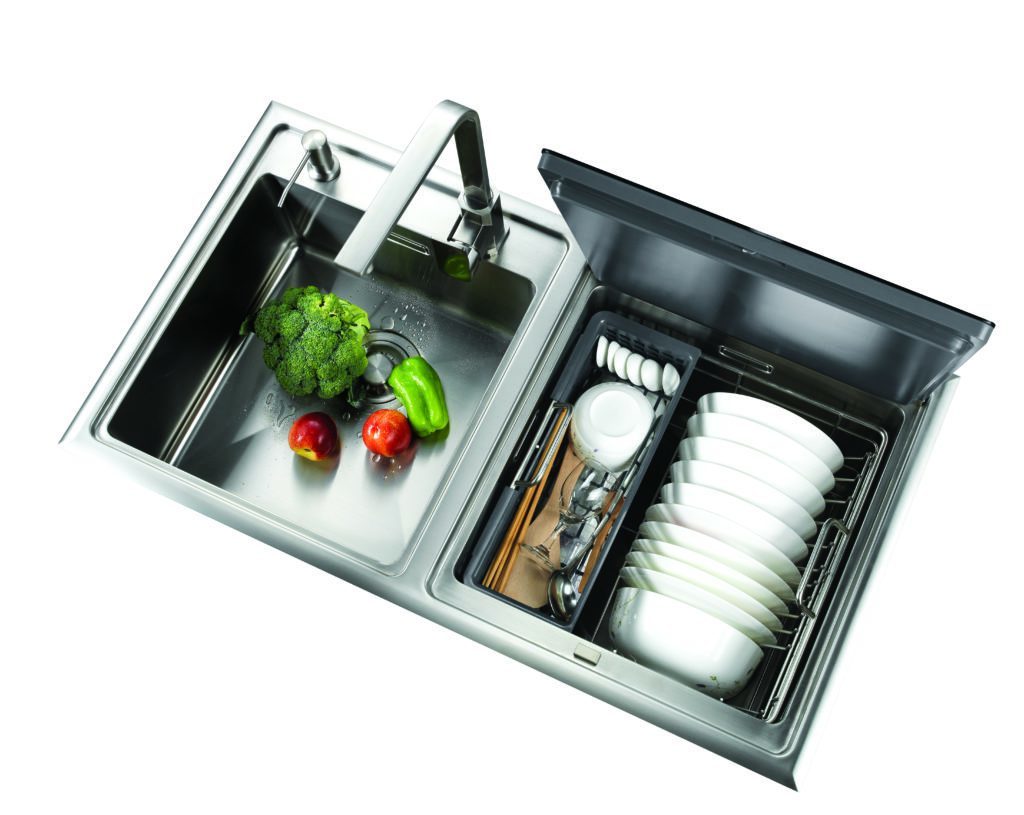 Photo: Inman
Ideal for small kitchens – in condos, for examples, efficiency apartments or tiny houses – StreamLine Hoods is offering a combination dishwasher-sink combo that drops into the countertop.
The space-saving unit is no larger than the typical 36-inch sink, and eliminates the need for one more space-eating appliance. And it comes with such accessories as a draining basket. In brushed stainless steel.
7. Wall-mounted HVAC unit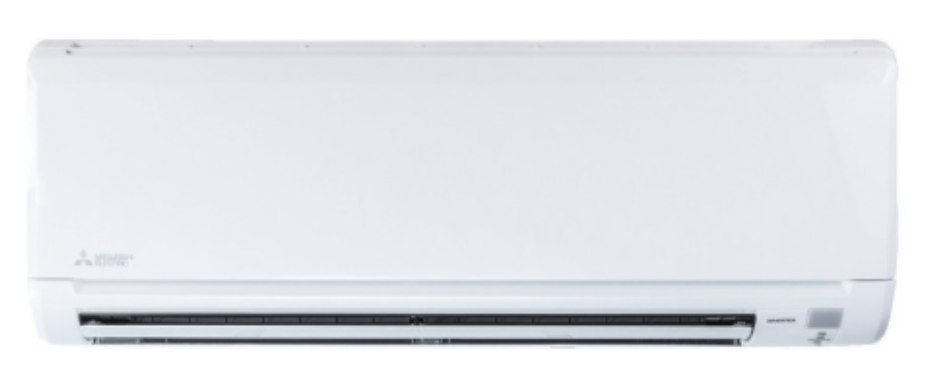 Photo: Inman
Mitsubishi Electric's sleek wall-mounted HVAC units not only provide cooling and heating to your room, but they also monitor room conditions and adjust their fan speed to fine-tune your comfort. Advanced filtration features deodorize and purify the air in your home, contributing to better health. And the ductless system can be monitored and adjusted by remote control.
Return air sensors  monitor room conditions and automatically adjust based on human heat signatures to maintain the temperature you choose.
8. Smart dimmer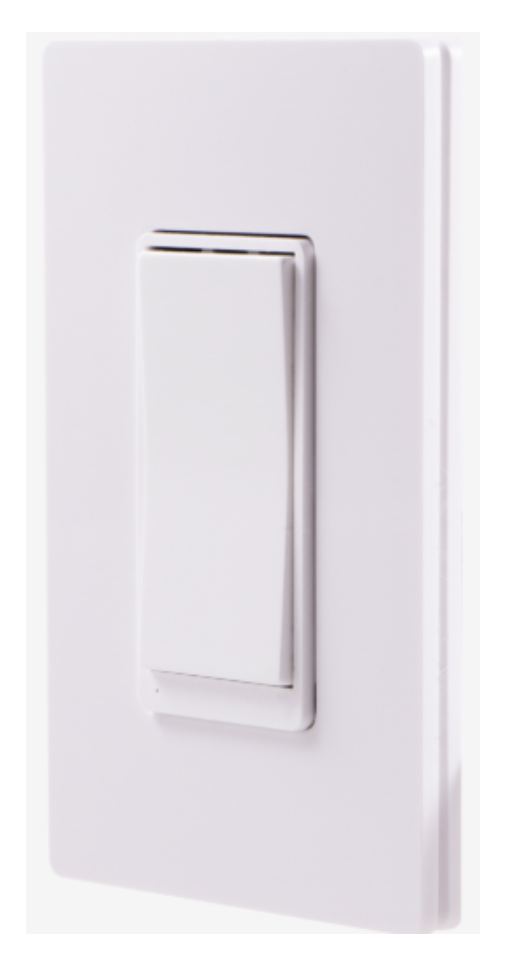 Photo: Inman
Everything else in the home can be smart these days, so why not an intelligent dimmer? Jasco's wi-fi-enabled myTouch dimmer allows home owners to set a unique lighting schedule with full-range dimming and an on-off override feature if plans change.
It can be controlled from any mobile device, and has a SunSmart feature that recognizes sunrise and sunset for one-off control.
9. Faucets go black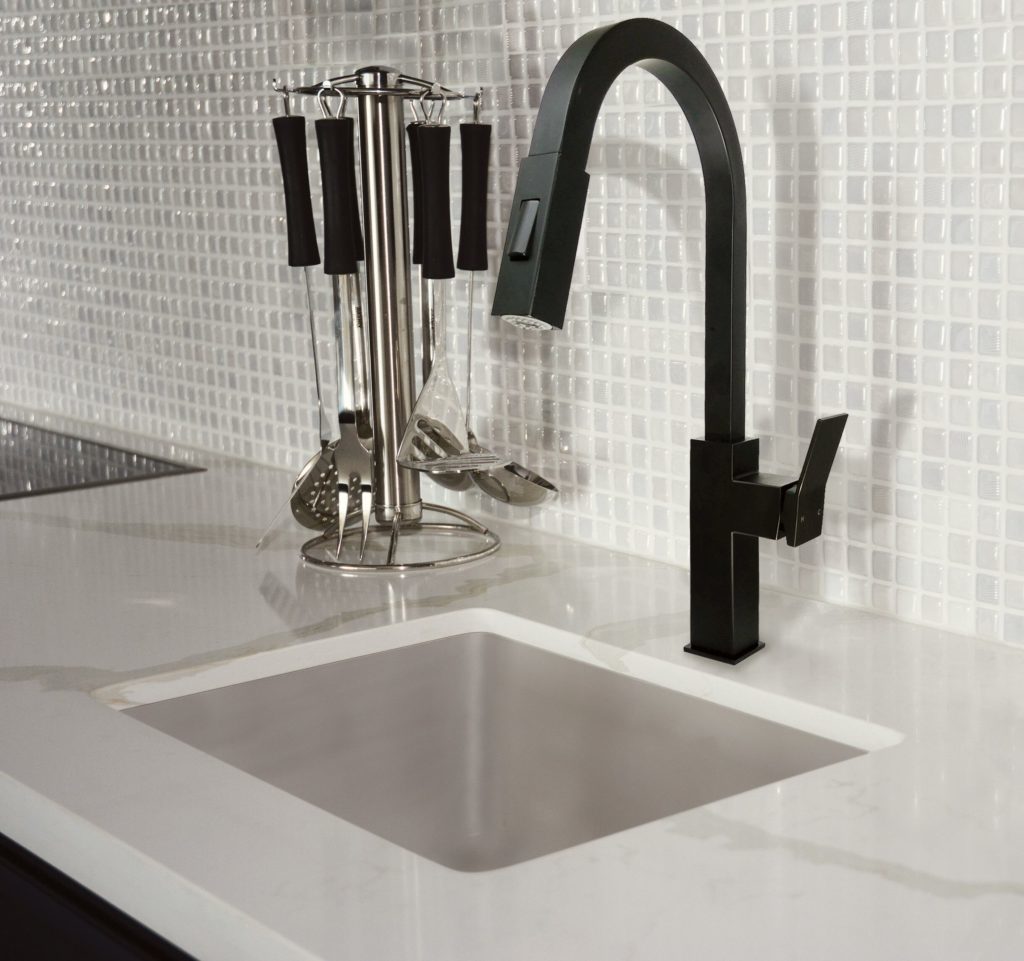 Photo: Inman
Black may never have gone away, but if it did, it's back – in the kitchen. Lenova has two new black-finish faucets, one matte and the other glossy — that compliment any decor. These two pull-down faucets are crafted of stainless steel with no led content for maximum durability.
10. Virtual shopping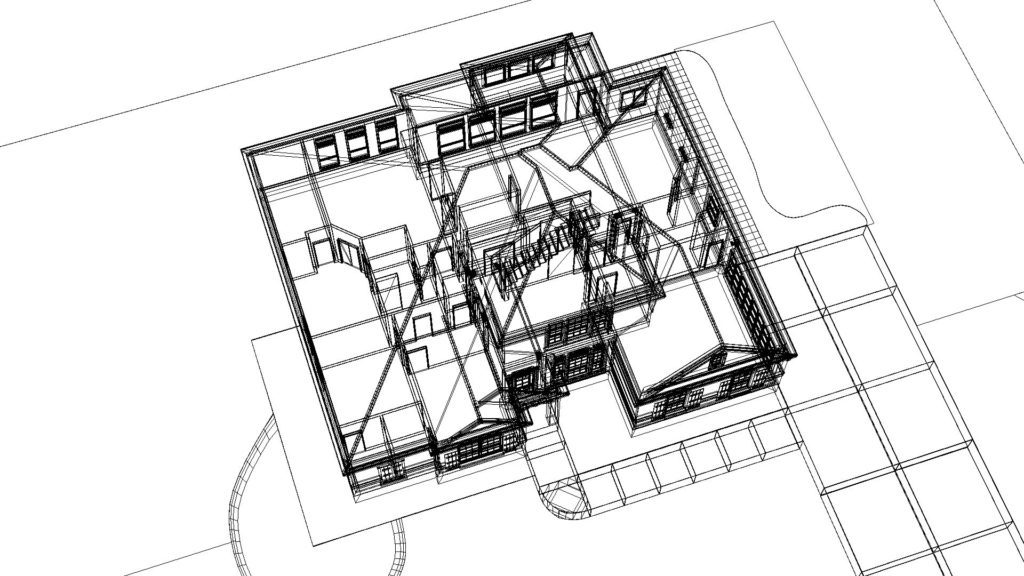 Photo: Inman
Model homes could be eliminated with Virtual Sales Experience, a interactive touch-table/touch-screen enabled tool for builder sales and design centers. The program, which can be customized for builders of any size, presents models using rules-based option libraries so buyers can create their own unique dwellings and price their choices in real time.
It also can transform conceptual designs into permit-ready, lot-specific documents with materials and quantity takeoffs, and can be linked to various vendors' software systems for ordering and delivery.
Another program, HomeByMe from Dassault Systems, allows would-be buyers to design their homes in 3D and play with different finishes and fixtures so they can preview their choices before making purchase decisions.
11. Outdoor fridge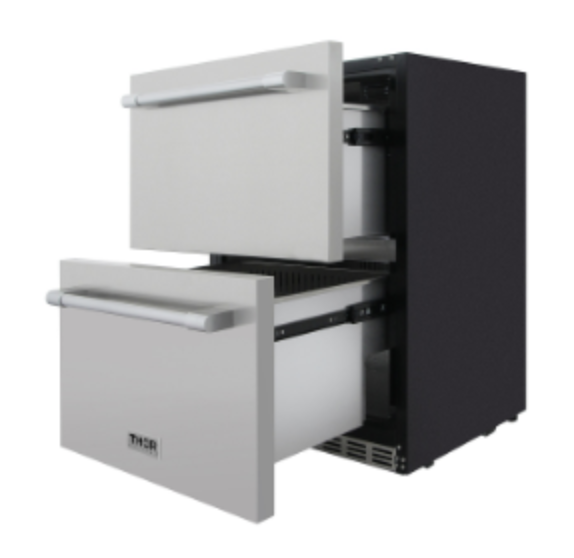 Photo: Inman
Thor, a maker of pro-style kitchen appliances, is going outside with its new 24-inch indoor-outdoor refrigerator drawer. The stainless steel drawers have a packing capacity of 5.3 cubic feet while holding an internal temperature of between 32 and 50 degrees. The ventilated cooling system automatically defrosts the evaporator to maintain uniform cooling and prevent humidity and freezing. Other features include digital controls for convenient setting options, bright white LED interior lights, self-close hinges and pro-style handles.
12. Blending in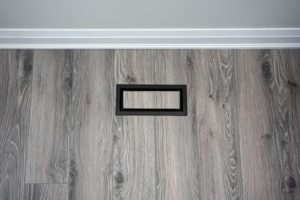 Photo: Inman
Floor and wall air vents stick out like a sore thumb. But by integrating the vents into a home's interior design, Canada's Aria Vent has found a better way. Now, form takes over from function instead of the other way around as the vents blend almost seamlessly into the room. Better yet, the vents are child and pet friendly. The kidlets can't toss items into the duct systems and animals can't catch their paws or I.D. tags into the grilles.
13. Blind corner kitchen cabinets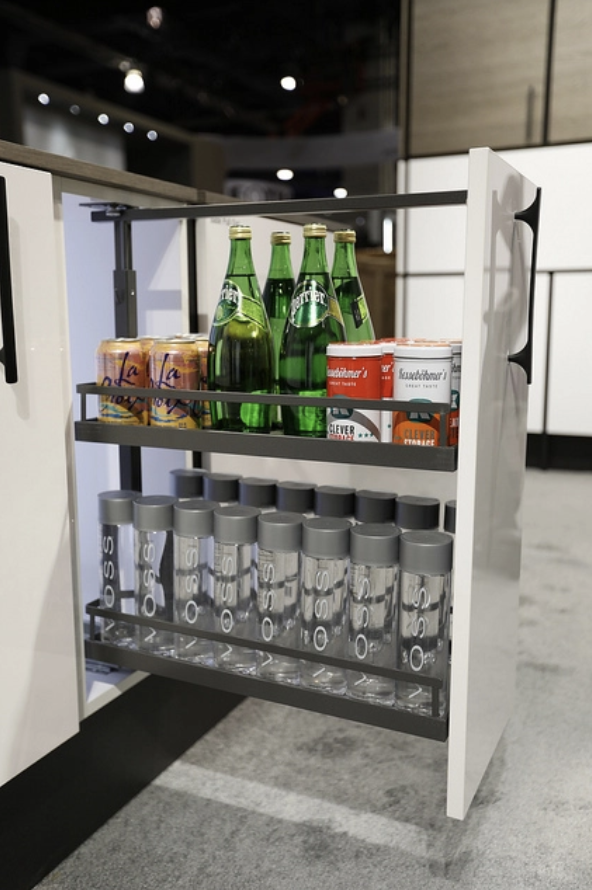 Photo: Inman
Kesseböhmer USA showcased the newest addition to its blind corner kitchen cabinet organization lineup, a smaller unit that adds function to a broader array of smaller openings. The German designed and manufactured unit can accommodate frameless cabinet door opening as narrow as 14 inches and boasts a 55-pound load rating per shelf. Height adjustable, in four color combinations with a soft-close feature.